Our Friday evening plans consisted of, well, going on a secret tour of the campus. Guess what fell through? Right, so, we had nothing to do and it was late. Jon and I were still doing the "no sleep" thing, having had just one hour since CPW began. We couldn't go to bed and we couldn't just wander (boring) so we looked at our options. It came down to two choices: frat party or just sit and hang out at Burton Conner. We went with the frat part first since it was right next door, but we realized that there were WAY too many people in WAY too small a room, so the only dancing/partying that we'd be doing would be in Burton Conner. We wandered over and went into their basement rec area (there's probably a name for it, I'll learn it next year, but for now it's the "basement rec area"). We sat there for a while, just kind of zoning out and chatting, when lo and behold, blogger
Sam
. He was a little surprised to see a group of pre-frosh just hanging out in his dorm, but he came over and chatted with us. We explained our tangerine tour issue to him and after much thought about the issue (actually, it was more like an immediate angry outburst) he suggested we go **** the **** and tell them to **** and that we should **** be on the **** tour. We smiled. We also decided that the basement wasn't the coolest place to hang out, so Sam led us upstairs.
That was when we discovered the amazing flashing room! I can't remember whose room it was, but she had quite the setup. There were icicle lights strung all across the ceiling that were hooked up to some fancy box. If I remember right, music from her computer was sent into the box and the different frequency spikes were measured. The different frequencies lit up different icicle lights, which were all different colors of course. The result was a room-wide music visualization party-place, and what kind of blogger would I be if I didn't make a video of it?
Did you hear mention of SolidWorks at the end? That was in reference to this bar: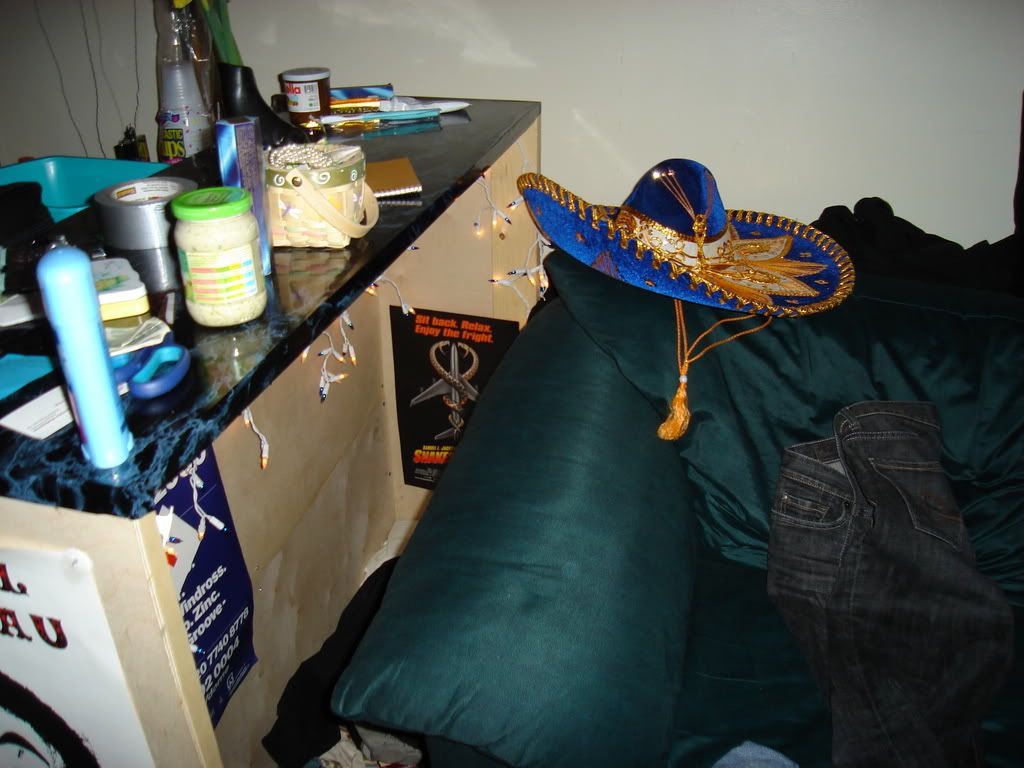 Then we went to Mason Tang's ('10) room and got to listen to Mason and Sam serenade us with their golden tones.
After some more room tours (including Sam's room) we crashed in a commons are where we discovered a Wii. Well, psh, have Wii will play. Sam and I teamed up against all takers and dominated at Wii Tennis, no contest.
Here's us just sitting and "Chillin' in Burton Conner"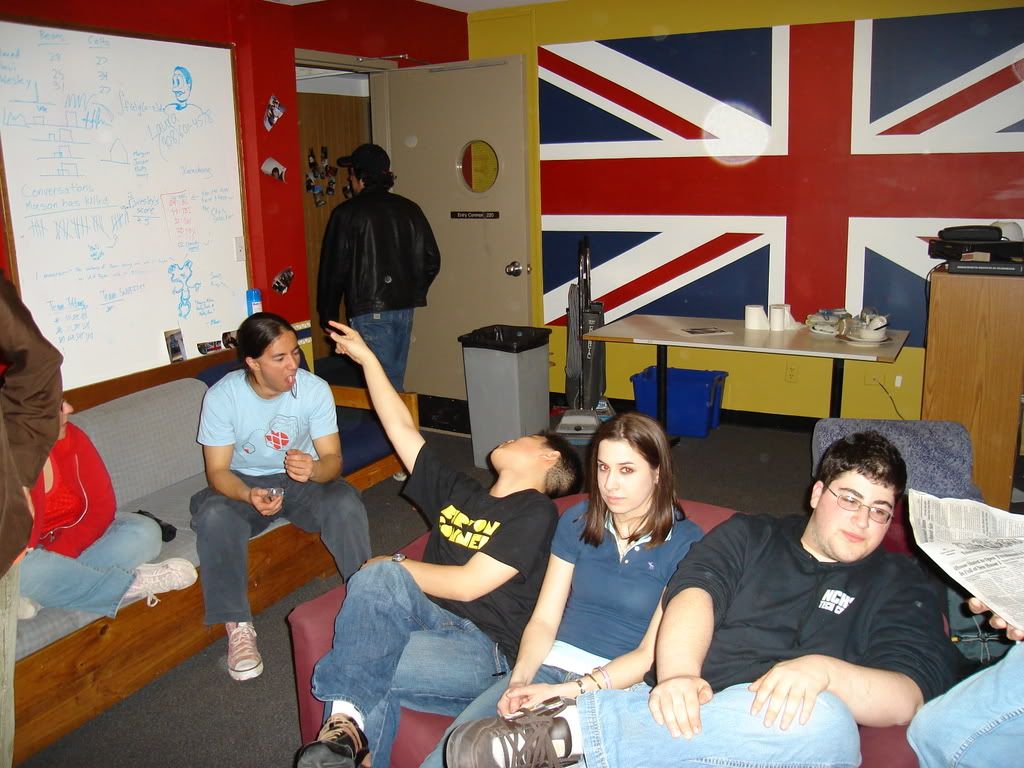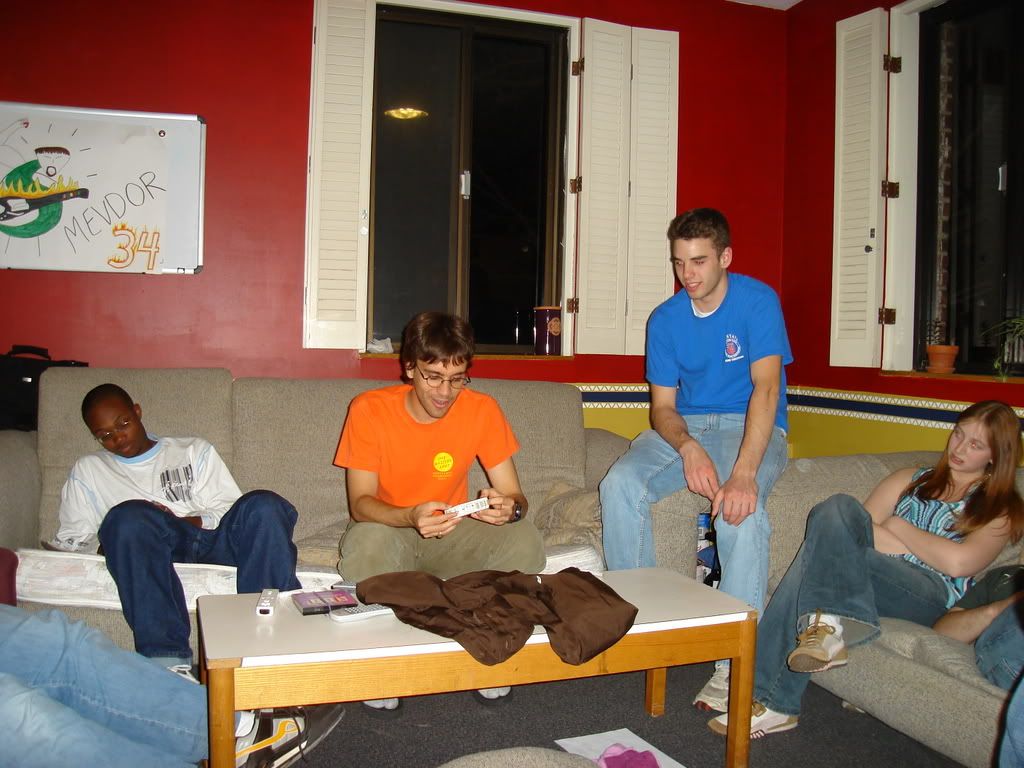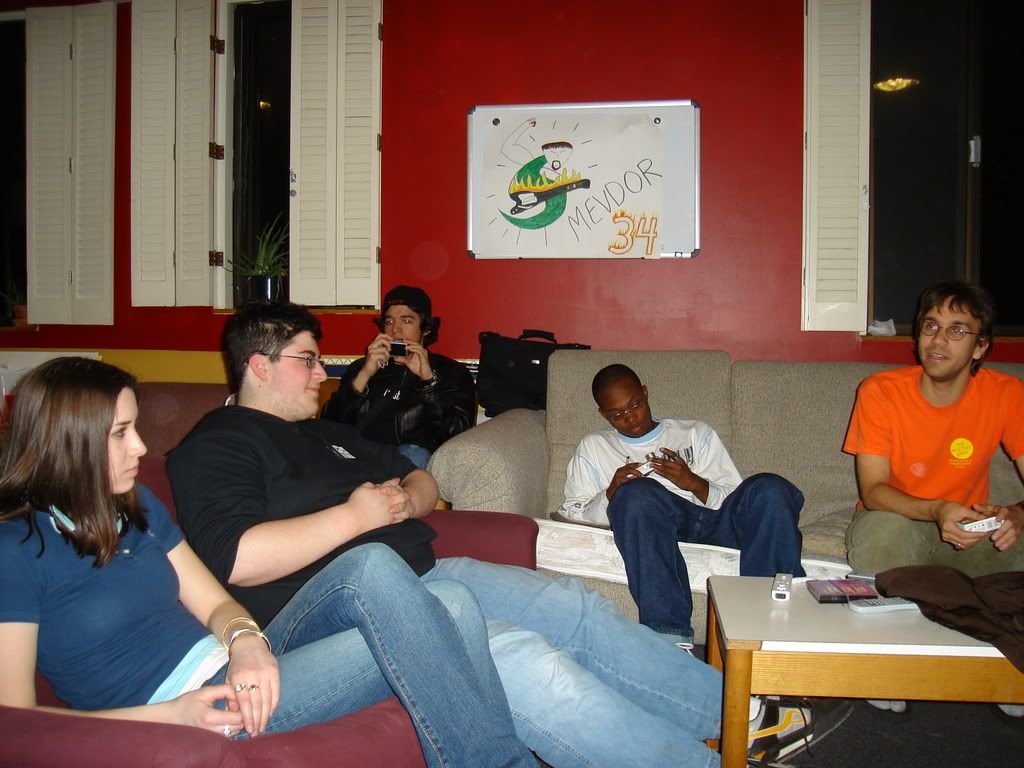 Remember when I said I'd talk more about
this girl
?
That's Laura. She's also an MIT blogger and lives in Burton Conner. She came and visited us as well!
What I discovered about Laura is that she may, quite possibly, be more sarcastic than me. I think I spent more of my time in Burton Conner attacking each other back and forth than anything else. It even continued past CPW, as you can see in
this blog entry
that Laura posted.
I made a video of us just chatting and hanging out, which is relatively uneventful, except for two things. The first was the explaining of the "Tang", the unit of orthagonality to conversation. That's because Mason had a tendency to say something in the middle of a conversation that made everybody just stop and stare at him. They even had a whiteboard with a tally of all the Tangs Mason had pulled off. The second thing happens about 1:50 into the video. Mason tells, quite possibly, one of the most inappropriate/hilarious/if-you-laugh-at-it-you-go-to-hell jokes ever! Watch Hank's reaction! It's hysterical! I think it's hilarious too, but others were less thrilled. Meh, judge for yourself.
So that was the Burton Conner Experience! The next story, however, is priceless. Read on my friends, read on, and you'll hear one of the most defining stories of CPW.