Sara and I got to Stata about a half an hour before the tour started so we took the opportunity to chat and check out the schedules for the rest of the weekend. We did notice, however, two nifty features of the Stata Center. The first was piece of MIT hacking history. There are two huge hacks that MIT is known for, the police car on the dome and the CalTech Cannon. Several years ago MIT students awoke to find a police car sitting on top of the great dome, with lights spinning and a stuffed police man in the front seat. Turns out that MIT kept the police car and now displays it in the Stata Center!
The second nifty feature was a cow. I don't know why it was there.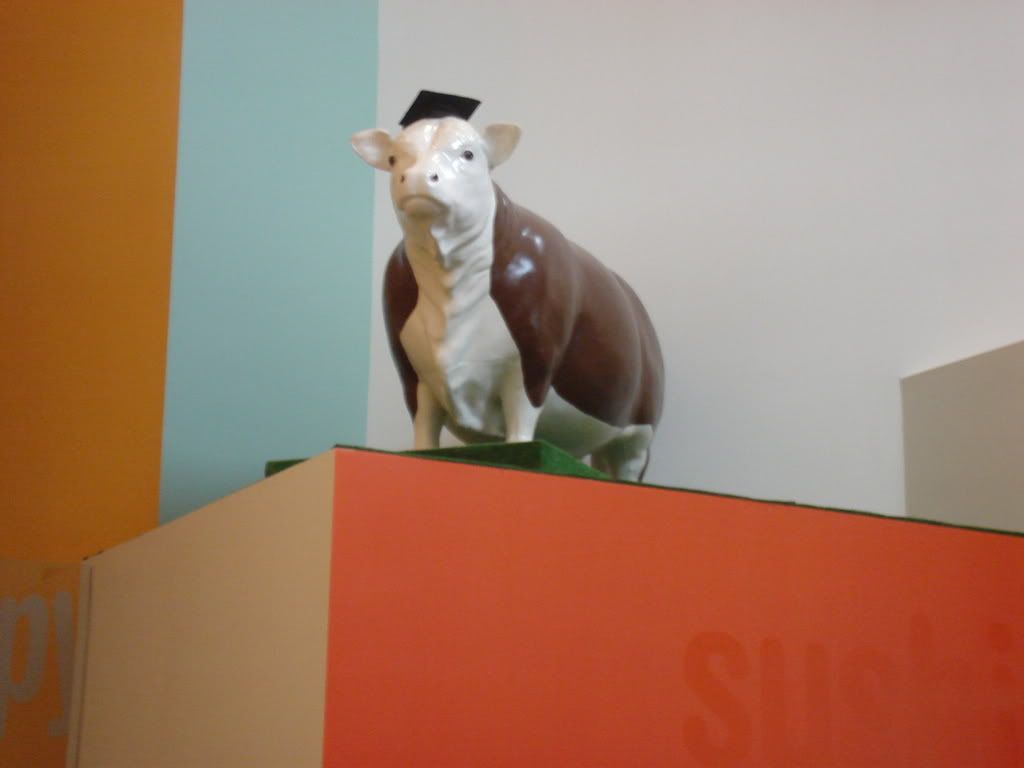 It was time for the tour to start, so we jumped into the group and started following along, before I heard someone yell "Snively!" I looked around and saw some random person yelling at me, so Sara and I wandered over. Turns out it was the group of people I'd been talking to for the last 3 months on Facebook! I only managed to get one picture of our meeting, and it's a little weird, but I'll try to explain.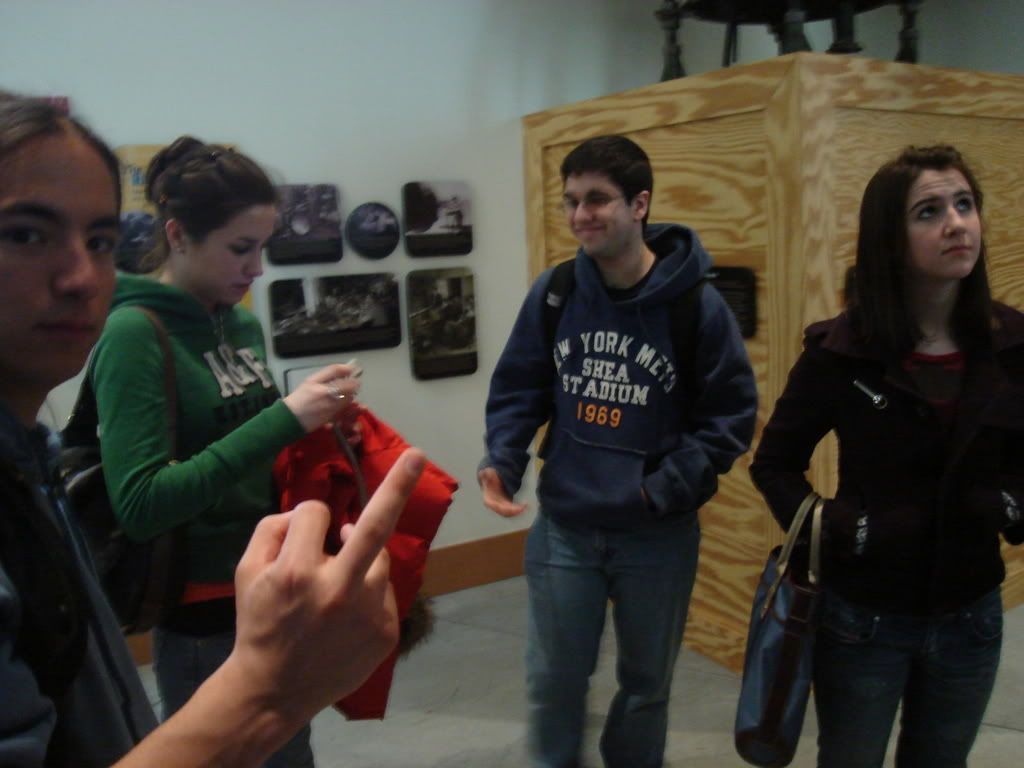 The girl on the right is Emma Rosen, the creator of the facebook group. The guy in the blue sweatshirt is Jon Estrada, my future roommate. The girl in green is Sara, checking pictures on her camera, and the person flipping you off is Yuki Yamada. His goal was to try and be in every picture flipping the camera off. That goal kinda fell to the wayside after he realized that I was going to be taking over a gigabyte of pictures. Not in the picture are Daniel Sauza and Hank Robinson, I don't know where they are. We hung out for the rest of the tour, just kinda chatting in the back and not really listening. What'd we see on the tour?!
HA! That's a safe place to work!
That little black robot is autonomous and is part of the DARPA project. Those little glowing lights are infrared that the robot uses for navigation and are not visible to humans, but apparently they are visible to digital cameras. Here's a video of the little robot, named "Little Dog", wandering around, and notice that you can't see the infrared lights.
Now, notice that the enclosure the robot is in was surrounded by red lights.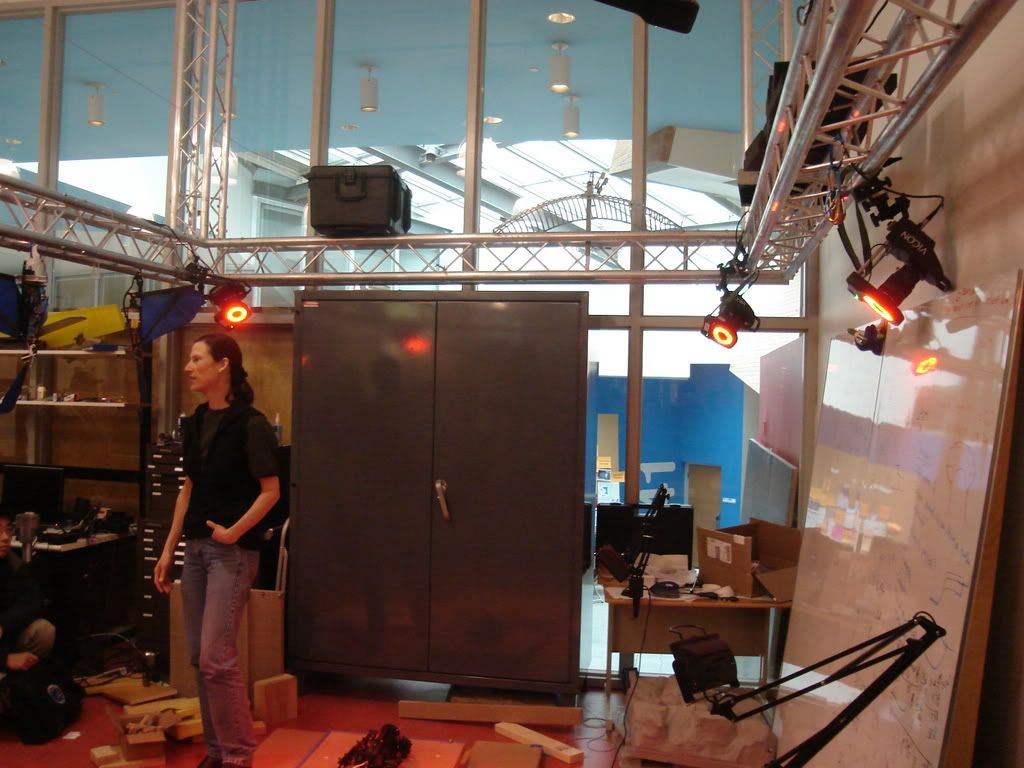 I leaned over to Jon and asked "Why are there red lights everywhere?" to which Jon replies "They're obviously for dramatic effect!"
Yeah, right. So I asked the lady in charge why there were red lights.
"I'm not really sure," she said, "I think they're there just to look cool."
I groaned and Jon laughed. He was right! They were for dramatic effect! This just goes to show that some of the most technologically advanced stuff isn't as intimidating as it may seem at first, sometimes it just looks cool!
They use two computers for controlling Little Dog, one running Windows and the other running Linux.
I suppose that one works and one doesn't. I'll let you guess which is which.
Next on the tour was the area where they test Mars Rovers.
Here's Mars!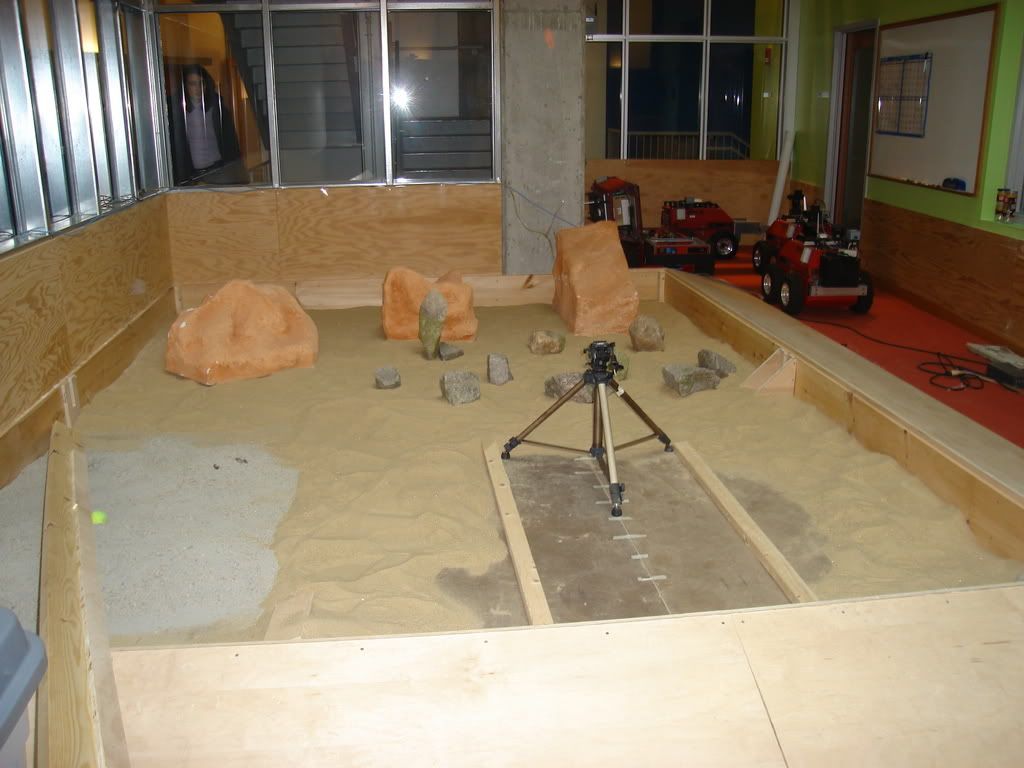 In the background you can see the red Mars Rovers that they test. People asked a couple of questions that were, granted, interesting, but not what I wanted to know. They asked about environment, types of rovers, and all that stuff, but I raised my hand and asked the most important question of all.
"Do you guys make your own rocks?"
"Yes"
"Cool"
I ask the questions that matter!
On our way out we caught one last glimpse of Stata coolness:
A poster of the Vertruvian Man, version 2.0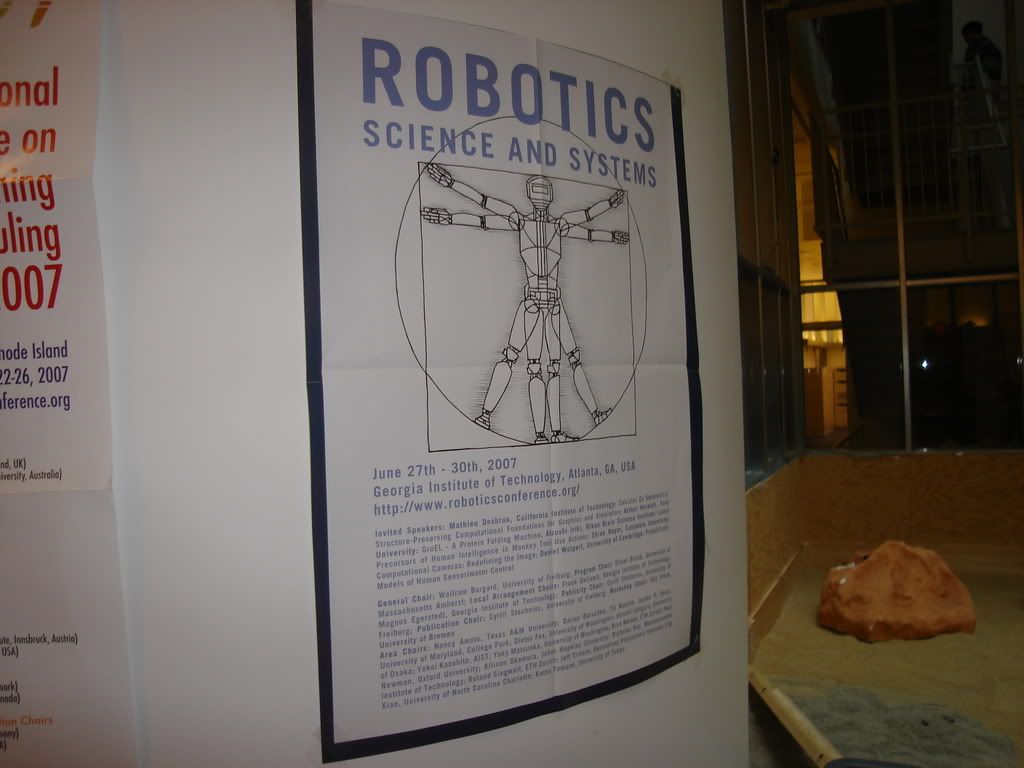 Now it was on to our next CPW adventure: Exploring Simmons Hall!