Next stop on the facebook group tour de MIT was the Z-Center, MIT's brand new fitness center.
The first thing we saw was the huge, olympic size swimming pool.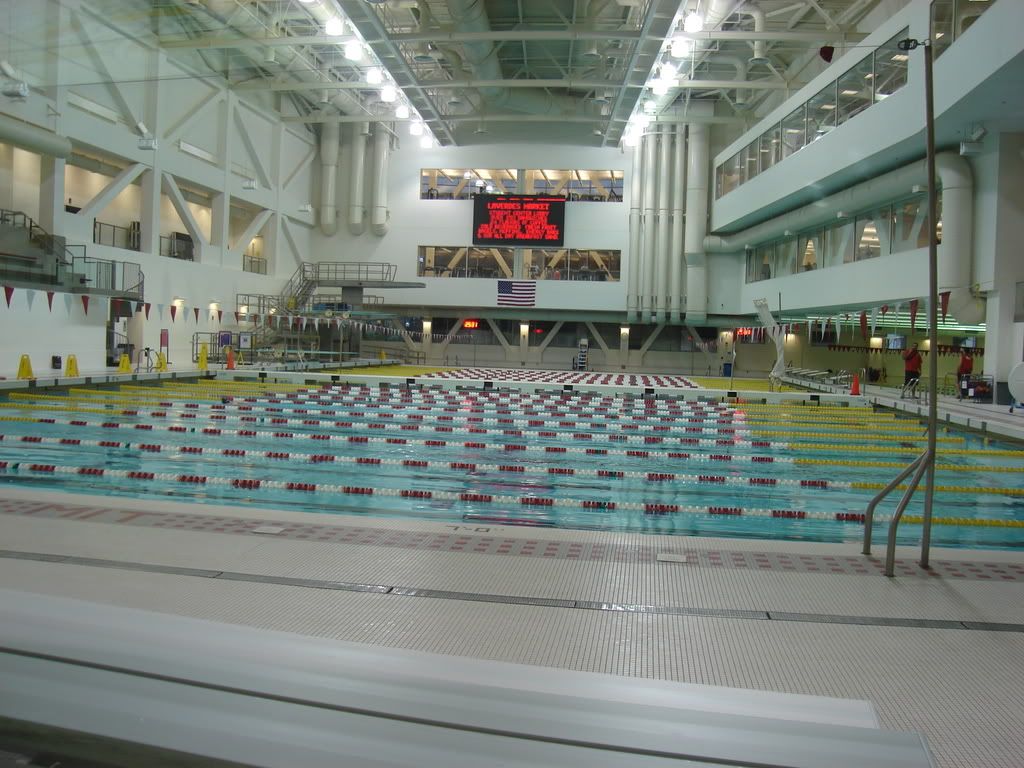 It was very cool, kinda intimidating, but one of the Z-Center's better known features.
Another well-known aspect of the Z-Center is the Rockwell Cage, which is basically 2 gyms surrounded by a cage so that you don't get hit by random flying objects. We had a problem getting into the Rockwell Cage, however, because there was a turnstile leading into it that required an MIT student ID card. Not to fear though, Yuki's host had given Yuki his card, so we were clear! Swipe, first person enters. Swipe, second person enters. Swipe, third person enters, until 6 of us had gotten in. We laughed about the conversation Yuki's host was eventually going to have with some administrator:
"Now, Curtis, according to our log, you entered the Rockwell Cage a total of 6 times in a 10 second window. Would you like to explain this?"
a) "Well, I have obsessive compulsive disorder. I need to swipe my card 6 times everytime I go to the gym."
b) "I got excited! I just had to swipe it one more time!"
c) "Somebody bet me I couldn't swipe it 6 times in ten seconds."
d) "Sorry."
Cage:
Gym (with chairs for the evening's greeting session):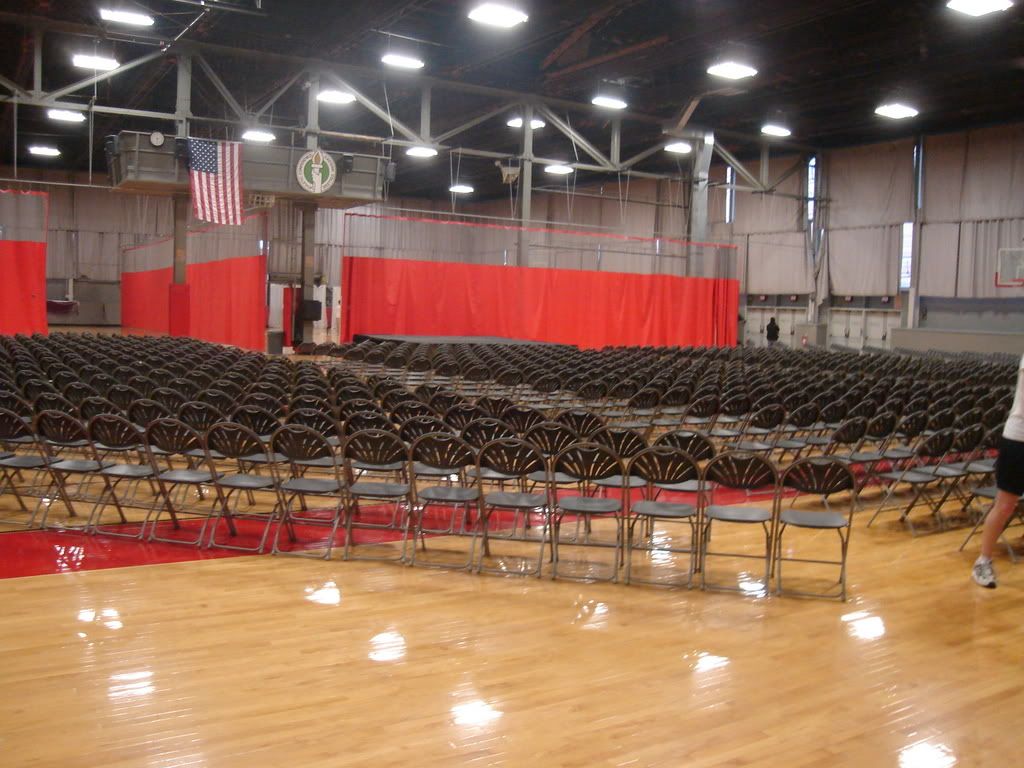 We decided to go upstairs and explore all the secret hallways and back rooms of the Z-Center next, and found the squash courts.
We decided that a squash court would be a great location for a horror movie, because it's essentially a pit with no doors. Well, there's one door, but it's about 3 feet high and only big enough for a very large snake to get inside to eat you. That, and there's a balcony (which is where I took the picture from) for the evil murder to watch you die.
Next we saw the ice arena (currently concrete, you'll find out why soon)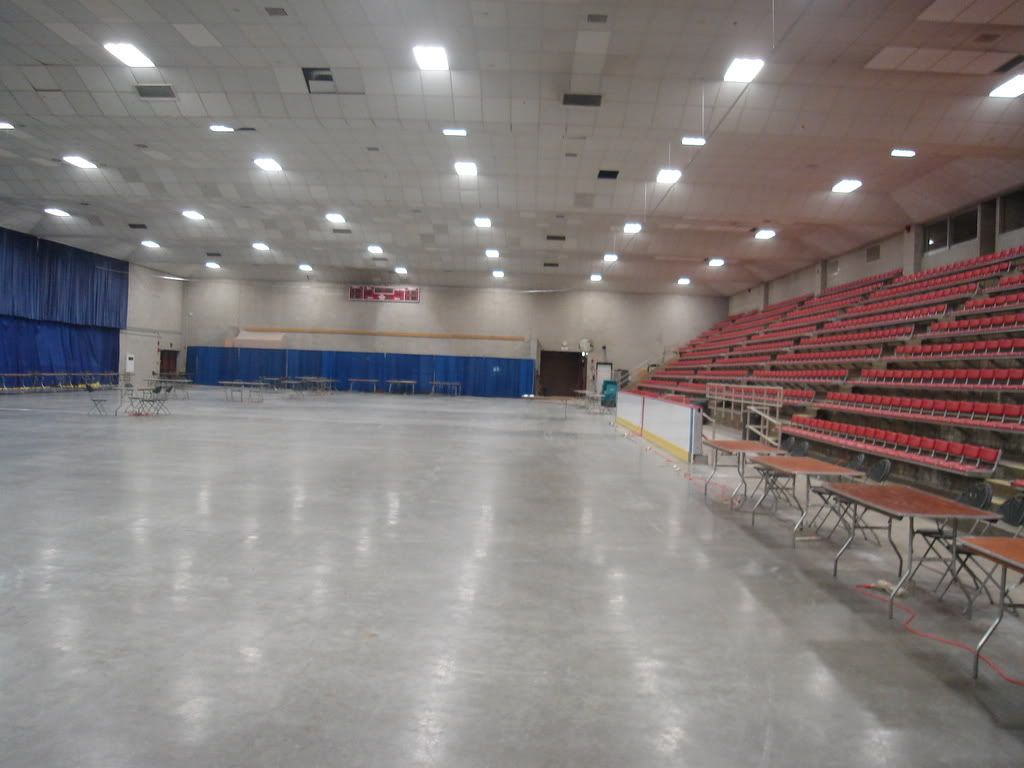 and then the indoor track, where two things of significance occurred.
1) There was a long jump, meaning there was a sand box. We discovered that if you framed the picture just right, it would look like you were stranded on a desert island. Jon volunteered.
2) There was a climbing rope that Yuki decided to climb. This is when we discovered that Yuki was a ninja.
As we left the Z-Center we noticed two doors with four windows. Photo Opp! Here's the 4 guys of the group in our respective windows:
We went back to Simmons after the gym because they promised to have Dunkaroos and Fruit-by-the-Foot (which they didn't), so we killed some time in the chill center. Yuki and Jon played ping-pong and Sara and I sat on the couch and watched.
Jon had perfect form
Sara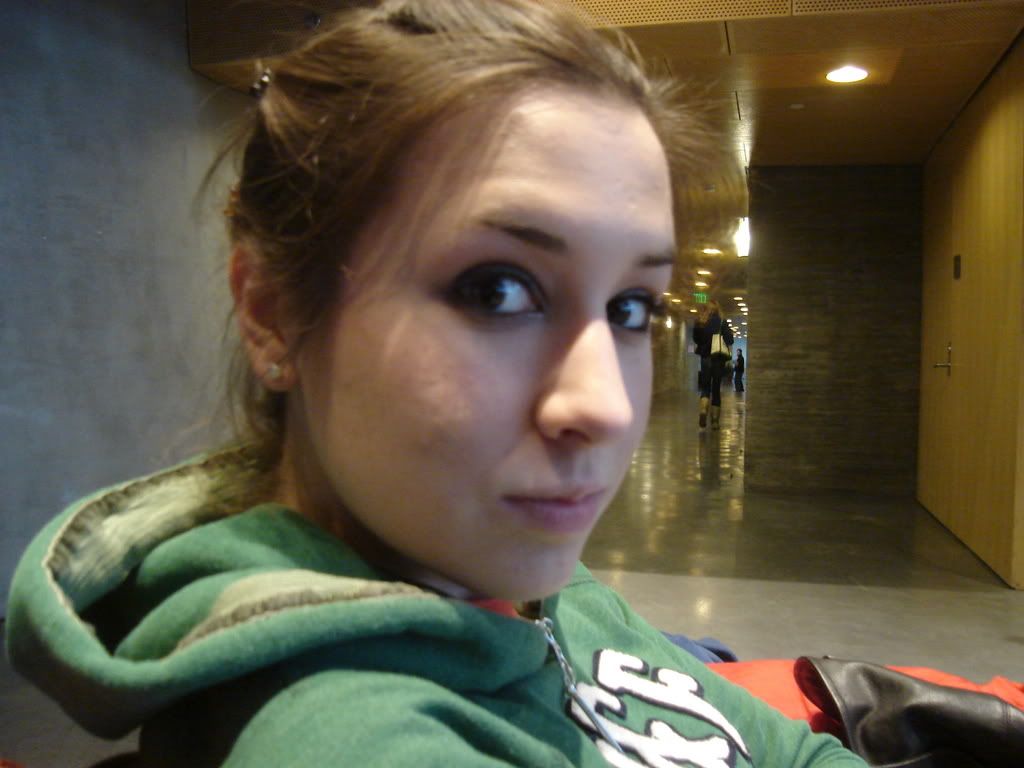 We noticed something else cool about Simmons. It had a lego Spongebob on the main counter.
Z-Center and Simmons, two very cool places to explore and hang out. We want Dunkaroos!